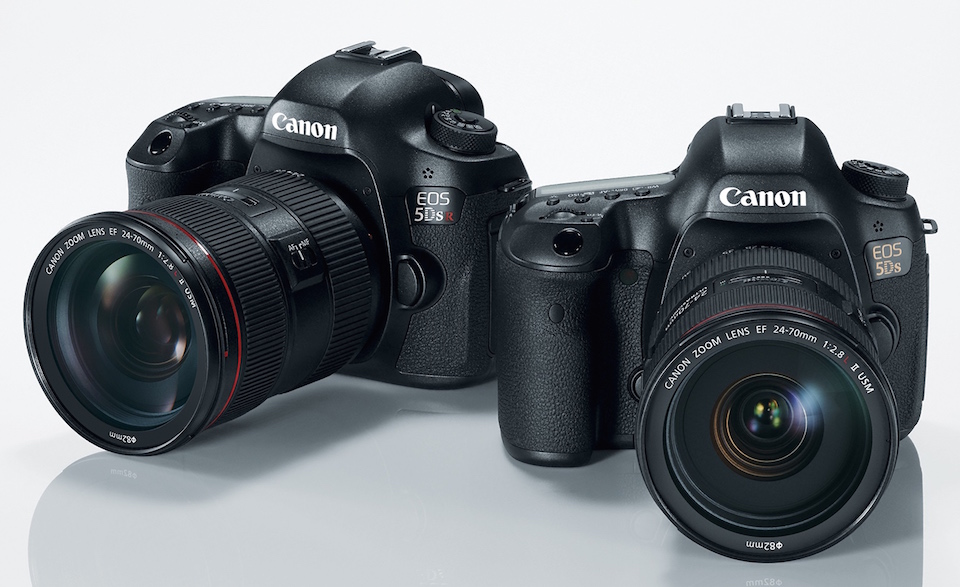 So the rumours turned out to be correct and Canon have officially announced the 5DS super high resolution 50+ mega pixel DSLR. There's actually two versions…the 5DS R offers a little more sharpness at the expense of anti-aliasing. These are crazy high resolution cameras aimed squarely at photographers longing for medium format results in a smaller, more versatile package. These models and more specifically the sensor technology behind it is long overdue from Canon and hopefully this will help them win back some of the market lost to Nikon's D800/D810.
But the downside is the lack of advanced video support on these two new models. Video is there but the specs are no better than the 5D3 and the quality may be worse due to the super high mega pixel sensor. Some features have even been removed such as a headphone jack for monitoring audio and clean HDMI output for use with external recorders. Canon clearly have a defined market for these new cameras and unfortunately, that's not me for a number of reasons…
1) Price. I actually think they are fair value for what they are and what they offer (unless you live in Europe or the UK where the retail pricing is robbery). I know Panasonic, Sony and even Blackmagic have competing products with better bang for the buck but when you're already invested in Canon glass and accessories (for which the new 5DS is fully backward compatible) then the value is there. However, I'd have to sell my 5D3 to even begin to justify a 5DS and for that I would take a huge hit for which I would lose more features than I would gain.
2) Resolution. The headline feature of a 50+ mega pixel sensor is not something I need or even want. I wouldn't mind a 4K resolution bump in video but that isn't there. RAW images take up 3 times the space on a 5DS vs the 5D3 and space is a premium for me even on a 1TB MacBook Pro. I simply don't do anything with my images that require such high resolution and virtually all my images get scaled DOWN already. I suppose there's something to be said about future proofing but who's to say future technology won't be able to interpolate more resolution out of old images anyway?
3) Glass. I highly doubt my current Canon L glass will be able to resolve this kind of resolution in the first place. I KNOW the vintage glass I've amassed can't resolve that resolution. So to take full advantage of the new sensor, you'd have to invest in some new glass and that's not something I'm prepared to do.
4) Video. I love the 5D3 for its versatility in being an equally good stills and video shooter. I can't tell you the countless times I've gone out intending to shoot one but then shooting the other (or both). I don't want to lose features on the video side which is what you'd have to do with the 5DS to get that crazy new sensor. Even though I'm not quite ready for 4K, the day is coming when I will be and that will be a headline feature I'm interested in.
5) Magic Lantern. I love the value ML adds to my 5D3 and RAW video is simply stunning. I like the option. There's no telling how long (if ever) ML will take to find its way onto the 5DS and without it, I would lose functionality without getting anything in return. ML isn't perfect and RAW video in particular has its challenges in a production environment but for an enthusiast like myself, ML RAW gives me access to unbelievably high quality video. Until I shift to 4K, I want the most from HD and that's what ML offers me on the 5D3.
It's my hope that other rumours materialise and that we see a 5D mark IV or 5DC or whatever they decide to call it later in the year. Give me 4K video, a modest bump in stills resolution and the advances seen in other models with video auto-focus etc…I'd be happy. And more importantly I'd jump on it. But if Canon chooses instead to polarise their product lines (understandably choosing to justify their cinema line of cameras) I will likely have to start looking at those other manufacturers for my video needs. It would be a shame and I would moan but the fact is, these are exciting times in camera advances and choices are a good thing.